Click the player to listen NOW!
Forget hyped-up pills and quick-fixes: the secret to your long term weightloss and fitness success may be a good attitude and a sense of humor. Join us as we discuss the importance of levity for, well, levity! It's no wonder Betty White still has us in stitches over 20 years after The Golden Girls-all that laughter has kept her going strong!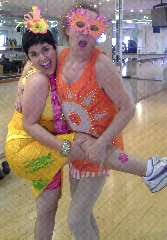 Me and Richard Simmons-A Sunny Attitude is Contagious!
Crafty Chica TOUR!
Waking Up in the Land of Glitter by Kathy Cano-Murillo
Miss Scarlett's School of Patternless Sewing by Kathy Cano-Murillo
Richard Simmons website
Fat Girl Escapades
Jack Sh*t, Getting Fit
I Hate Everyone, Starting with Me by Joan Rivers
Article on Laughter and Health from helpguide.org
Jockey P2P Fall Catalog
WW Lose For Good Open House & Success Panel
Saturday, Sept. 15th 1:30-2pm
Weight Watchers Clairemont
5529 Clairemont Mesa Blvd
San Diego, CA 92117
Wishing you love with extra cheese-
Nacho Mama
Disclosure: All opinions expressed on Nacho Mama's Podcast are strictly my own. I am also not affiliated with Weight Watchers-just a regular, paying customer, folks. ALL PODCAST CONTENT Blogtalkradio.com/NachoMamasPodcast is © Nacho Mama and nachomamasblog.com, 2009-2012. Unauthorized use and/or duplication of podcast content without express and written permission from this blog's author and/or owner is strictly prohibited.